Manufacturer approved bodyshop
Gaining manufacturer approval is no easy challenge. It demands constant improvement and training to ensure that we maintain the standards that our approved manufacturers expect. There are many differences between a manufacturer-approved bodyshop and a non-approved bodyshop.  Here are a few reasons why you should always have your vehicle repaired by us (an approved bodyshop) and not simply an insurance approved bodyshop, or one with no approvals whatsoever.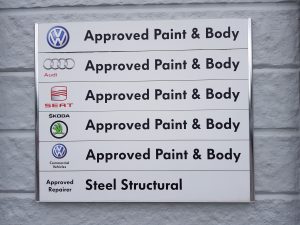 Your vehicle will be repaired using manufacturer set methods; non-approved bodyshops use Thatcham methods. Thatcham create methods for their own repair software and then sell that to bodyshops. You may know them from their rating of alarm systems; they do a lot more than this. Thatcham methods do not consistently match vehicle manufacturer repair methods. This means that your vehicle may not be repaired in the way the manufacturer intended it to be.
Your vehicle will be worked on by manufacturer trained technicians; non-approved bodyshops do not normally take part in manufacturer training. We are constantly developing our staff's knowledge base with manufacturer training. This ensures that we are up-to-date with the latest technology that is being developed and installed on new vehicles. Non-approved bodyshops do not take part in manufacturer-specific training and are only trained on generic courses.
Your vehicle will be repaired using the approved paint and materials as dictated by the vehicle manufacturer; non-approved body shops use what they have available.
And lastly and probably the most important: because of these reasons we can issue you with a manufacturer backed guarantee, which no non-approved bodyshop can ever give.
For more information on our individual manufacturers, please select the pages from the menu above.
IN BUSINESS FOR OVER 50 YEARS
Established in 1966 by Brin Jones, we have been ahead of the curve when it comes to vehicle technology & safe repairs. We are not insurance owned, which means our interests are repairing the car correctly, not saving money. For more information please click on the image link above.
PRIVATE AND INSURANCE ESTIMATES
We can work with any insurance company to repair your vehicle. We will also carry out private work for our customers if the require it. We will  ALWAYS ensure your vehicle is repaired safely and correctly. For more information please click on the image link above.