Electronic body measuring
Until recently the only reliable way to measure a vehicle body was to place it on zero-tolerance jig brackets like so: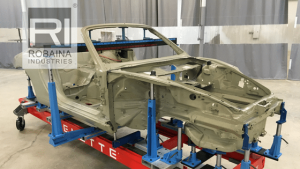 This method took a lot of time and effort to assemble the jig, strip the vehicle of its under trays, fixings and, in most cases, suspension. We would then place the vehicle on the jig brackets, only to discover that the vehicle is perfectly straight. The whole process took about 10 hours plus the cost of bracket hire, which can be in excess of £500.
Recently, however, we have invested in a new piece of technology that has reduced that time to under 2 hours; the Cellette Naja (featured image). It uses manufacturer data and a measuring electrode to easily and accurately measure the body of a vehicle to ensure that its chassis and structure is not bent.
This means that we can very quickly and easily check that the physical geometry of your vehicle body is in its correct alignment after an accident. This is vitally important when repairing aluminium and multi-material construction chassis as the materials are more susceptible to structural movement. This helps us to increase our repair quality and high levels of repair safety.